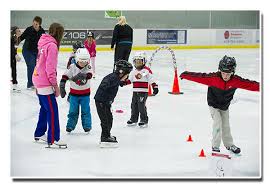 General information for our group skating lessons
All group courses have been developed by Skate Canada, the national body for the promotion of the activities of figure skating in Canada. Programs are offered to children ages 3.5 to 12. For each stage passed, the participant receive a badge as a reward. Places are limited in each program. For all group programs, a parent or a responsible adult must remain on the bleachers to encourage participants and in case of emergency or necessity. Walkers are not used during Skate Canada programs.
Please note that due to temporary COVID-19 restrictions only one adult can accompany kids during the programs. Spectators must remain seated when skaters are on ice, wear a mask and maintain distancing whenever possible. Vaccination passport will be checked at the entrance to the arena, as per government rules. Unfortunately, at this time beginner groups can only accept kids, who are able to walk on ice and get up from a fall without assistance, because physical contact between coaches and skaters is not permitted.
We recommend to wear warm comfortable clothes. Helmet approved by CSA with face guards, and gloves/mitts are mandatory for all. No uniform required.
If our group classes are unsuitable for some reason, such as: schedule, age or other, you can opt for private lessons or semi-private lessons. You select a regular ice session with the club and you hire a certified coach. Visit the Private Lessons section for more information.
Learn more about CanSkate and the different skills required in each stage.
Please select a session for more information: